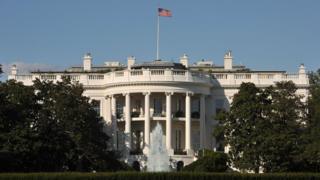 When will Trump become president?
Donald Trump has been elected as President of the United States, but he won't become president until a ceremony on 20 January 2017.
This ceremony is known as his inauguration, where he will be officially sworn in as president.
Until then, Trump will be known as President-Elect, and the months between now and January are known as the 'lame duck' months.
That's because nobody can get much done in that time, because no one has any real power.
Donald Trump and his team will spend this time preparing for his presidency and making sure that the changeover goes smoothly.
What happens at the inauguration?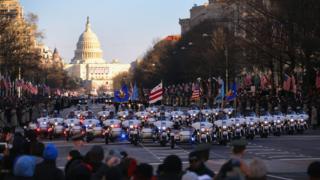 Getty Images
Donald Trump will be sworn in as president on the steps of the US Capitol, which is an important governmental building in Washington DC, at midday on 20 January.
He will make a speech marking the beginning of his presidency and then eat a big ceremonial lunch.
It's then tradition for the president to hold an inaugural parade featuring the military and other participants.
When will Trump move into the White House?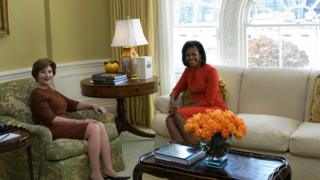 The White House
The Obamas can live in the White House, the official home of the president, until Donald Trump's inauguration.
On moving day, they will say goodbye to all the staff who work in the White House, and then Trump and his family will move in.
Traditionally, the First Lady (the wife or husband of the outgoing president) will invite the wife or husband of the new president to tour the president's private quarters before moving day.
It's also tradition for the outgoing president to leave a letter of congratulations or advice for the new president in the Oval Office in the White House.
What about Obama's social media?
President Obama was the first president to use social media in his job - it didn't really exist before he came into power eight years ago.
The White House has said that his accounts will be transferred to the new president, once Obama's posts have all been kept and copied for historical records.