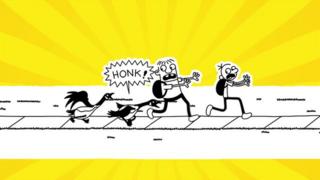 'My favourite book is The Long Haul'
Diary of a Wimpy Kid author, Jeff Kinney, is one of the most successful authors in the world.
He worked on his first Diary of a Wimpy Kid book for six years, before posting it online in daily instalments.
His first book was published in 2007 and since then, the series has sold millions of copies around the world.
Now, Jeff has just released his eleventh book, called Double Down, which finds Greg trying to make a scary movie with the help of his best friend Rowley.
Jeff came into the Newsround office to talk about his new book and we asked him some of your questions.