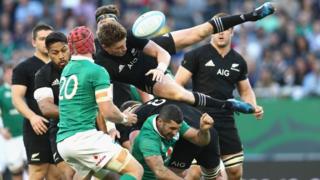 Getty Images
Ireland have beaten the rugby world champions New Zealand for the first time in 111 years.
The All Blacks were on an 18 match winning streak but lost the match, 40-29.
Ireland captain, Rory Best said "It's been a long time coming and history has been made."
He also described the New Zealand side as an 'Unbelievably dangerous outfit' and said he 'couldn't be prouder' of his team's performance.
Here at Newsround we want to know what you guys think of the result!

This chat page is now closed
You must ask your parent, teacher or guardian for permission before you send us a comment and a photo.
We may show your comment on our website or in our TV bulletins. We'll show your first name and which town you're from - but we won't use your details for anything