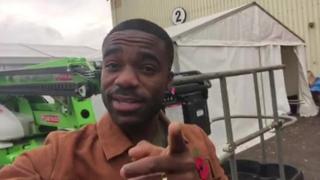 Strictly: Ore's behind the scenes video
It's all about the hips and a little shoulder shimmy!
What are we talking about? Well, watch the video above to find out as Ore gives us another Strictly exclusive look behind the scenes.
It's Week 7 for the Strictly contestants and Ore tells us why Greg Rutherford is feeling sick, and shows us where the celebs go to the loo!
Tune in on Saturday night to see how they all get on.
Best of luck, Mr Oduba!