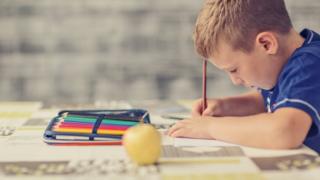 iStock
Chat: Should homework be scrapped?
A primary school in Scotland has voted to stop setting homework for its pupils.
Inverlochy Primary in Fort William made the decision after the children, parents and teachers all voted on the issue.
About 80% of pupils and more than 60% of their parents voted in favour of an end to homework. Teachers were split 50/50.
Instead of homework, the children say they will read more books and comics that interest them.
Meanwhile, in Spain a homework rebellion has started! Pupils from 12,000 schools are refusing to do any at weekends for the whole of this month.
Campaigners say time with the family is being neglected because kids are being given too much school work to do.
But what about YOU? Do you think you get too much homework? Or maybe not enough? Let us know what you think...

Do you think having to do homework is fair?

Do think you get too much homework?

Do you miss out on other activities because of homework?

Or is homework important to you?
Thanks for your comments. This page is now closed.
You must ask your parent, teacher or guardian for permission before you send us a comment.
We may show your comment on our website or in our TV bulletins. We'll show your first name and which town you're from - but we won't use your details for anything else.
I get too much homework and I hate it!
Haifa, London
I feel I don't get enough time to socialise. We spend 6-7 hours at school, surely we've studied all we need to in that time?
Leah, Hertfordshire
My idea would be to do everything in lessons, but anything you don't finish, you have to do as homework.
Josh, Lowestoft
I think homework is fine at the weekends but not in the holidays, it's a break from work for a reason.
Eve
I have just started secondary school and think homework should be banned as it puts too much stress on pupils like me when we could be doing other activities like sport or our hobbies. It would help us relax more and feel refreshed to do our lessons at school better.
Peter, Sheffield
I do get too much homework but once I get it done I am happy.
Jessica, London
Homework takes up all the time we could use to socialise and spend with our family. The weekend is supposed to be a break from work, it certainly isn't fair to be sitting there studying during your free time at the end of the week.
Dayna, Newcastle
I do get quite a lot of homework, but I (and all my class) grumble about it, but I feel like it will pay off and if we do the work now later we will feel proud of ourselves and we'd most likely get good marks.
Anna, London
I feel we are getting too much homework from school, which means we have less time to spend with our families. Especially during the holidays. What is the point of holidays if we still have to do work. The government should either decrease the amount of homework we get or ban it.
Nina, London
I do not think the teachers are giving us enough homework because I always hand it in on Monday. However I think they are being too harsh on spellings.
Rida, Seaford
I think it is fair that school children have homework because if you just do work at school you're not expanding your knowledge in to different situations which can become very important in your future. Children do get the right amount of homework people just need to be aware on how to spread homework out so as not to do it all in one go.
Noah, Rugby
I agree, we get too much homework!
Meera, 10, London