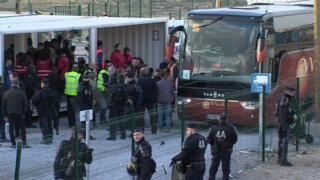 Last children leave the Calais 'Jungle' camp
The last remaining group of children and teenagers have now left the refugee camp known as the "Jungle", in the French town of Calais.
Thousands of people had made it their home, including many under-18s travelling without their parents or family members.
Many have been trying to get to the UK, after running away from war in their home countries.
Last week, French authorities started clearing the Jungle and demolishing it. The people living there have been taken to new homes or special centres around France.
Find out more about the situation in Calais here.