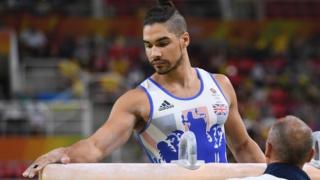 Getty Images
British gymnast Louis Smith has been suspended from the sport for two months.
It's because of a video that was leaked, which appeared to show him making fun of the Islamic religion.
Louis, who won a silver medal on the pommel horse in Rio this year, said he was "deeply sorry" for his "thoughtless actions".
British Gymnastics, who have suspended Louis, said: "It is regrettable that following a historic summer of achievement, the organisation finds itself in this difficult position with two high-profile members in breach of our standards of conduct."
Retired gymnast Luke Carson also appeared in the video and was given a reprimand. This means the incident will stay on his record for two years, but he is still able to carry out coaching work.