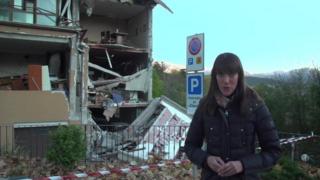 Thousands left without homes after Italy earthquake
More than 15,000 people have been left homeless after Italy was hit by its strongest earthquake since 1980.
No-one was killed in the quake, which happened on Sunday but 20 people have been injured.
In the town of Norcia, the earthquake destroyed and damaged many of the buildings there.
People in the area have gone to live with relatives and friends but officials in Italy say 15,000 people are sheltering in tents and sports halls.