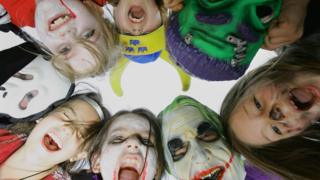 Getty Images
It's Halloween on Monday and we want to know how you're celebrating the spook-tacular event.
It's the time of year for scary costumes, ghoulish parties, and eating sweets after trick or treating.
Halloween can be traced back to a Celtic festival called Samhain, originally a way to scare away ghosts and ghouls that might come to Earth.
It was believed the barrier between our world and the spirit world was at its thinnest.
The festival survives to this day and we asked you how you're celebrating Halloween.

Thank you for your comments. This page is now closed.
Your comments:
I'm dressing up as a ghost but I'm not sure what my little brother is dressing up as. HAPPY HALLOWEEN!!
Ivy, 10, Nottinghamshire
My family decorated our house for Halloween. I'm also dressing up as Marty Mcfly from Back to the Future, one of my favourite films.
Aidan, Bromley
This year I am dressing up as a evil prom queen and my little sister is dressing up in my old witch costume.
Molly, 7, Bristol
I will be celebrating Halloween on the spooky train as it is my cousin's birthday. I will be a pumpkin skeleton.
Conor, 10, Norfolk
I'm dressing up as a china doll with all of my friends.
Iona, 10, Edinburgh
I'm dressing up as a bat.
Myfi, 10, Cardiff
I am celebrating Halloween by going to a Halloween party.
Joseph, 13, Northamptonshire
I am going trick or treating with my friend and we have plotted a route of the whole village, so we can make sure we have trick or treated every house possible.
Orla, 9, Devon