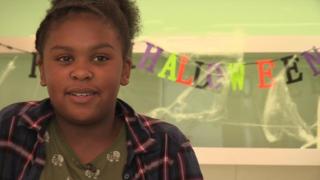 An easy way to make cobweb cake decorations
It's almost time for Halloween, and what better way to celebrate it than by making a spooky cake for the occasion.
Newsround presenters Jenny, Martin and Ricky have taken part in .
It was judged by Junior Bake Off Winner Amari.
She told us a terrifyingly brilliant - and easy and simple - way to make your Halloween baking look extra special and spooky.
Important: Always make sure you have an adult with you at all times if you're doing any baking.