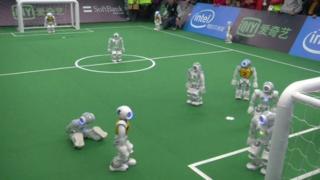 A football match like you've never seen before
This is one football match unlike anything you've seen before!
An American team of robots has beaten a team from Australia in the final of the RoboCup Challenge in Beijing, China.
The Australian team struggled with technical difficulties as some of their robots didn't work.
Their opponents ended up winning the grand final 7-3.
The robots are shaped like humans and are just over half a metre tall.
When they play football, they are not being controlled by humans. They are actually communicating with each other all by themselves.
One of their biggest problems is managing to stay standing up!
Each team can have up to five robots on the pitch at any one time. However, they will be substituted from time to time as they may malfunction or overheat.