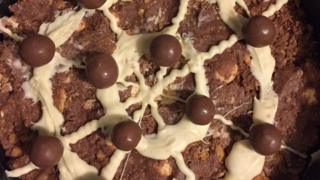 Make sure you have an adult with you when you're baking!
Ingredients
100 grams butter
200 grams milk chocolate
3 tablespoons golden syrup
225 grams digestive biscuits (crushed up by hand)
225 grams honeycomb chocolate balls
Method
Melt together the butter, chocolate and syrup then add the crushed biscuits and the honeycomb chocolate balls.

Mix together quickly then pour into a lined tin and chill in the fridge until set.

To make it extra spooky drizzle with some melted white chocolate to make a web and create a giant spider with the left-over chocolate balls!