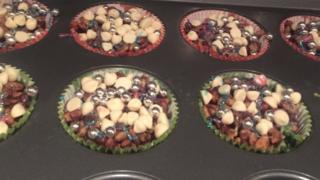 Make sure you have an adult with you when you're baking!
Ingredients
12 cupcake cases
200 grams dark chocolate, chopped
30 grams unsalted butter
30 grams golden syrup
75 grams rice pops
24 crunchy mint sticks, each stick cut into 3
1 small tube of white writing icing, to decorate
24 sugar coated plain chocolate beans, to decorate
Method
Line a 12-hole cupcake tin with paper cases.

Melt 150 grams of the chocolate with the butter and golden syrup in a pan over a low heat. Stir to combine and then remove from the heat.

Add the rice pops and stir until well coated.

Spoon the mixture into the paper cases and press it down.

Push 3 of the mint stick pieces into each side of the rice crispy rounds, for legs.

Melt the remaining chocolate in the microwave (about 1 minute) and drizzle over the rice pop rounds to secure the legs. Transfer to the fridge and chill for 2 hours.

When set, remove the paper cases and flip the creepy crawlies upside down.

Use the writing icing pen to stick on two chocolate beans for eyes and serve.