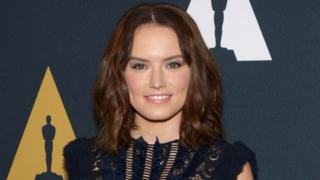 Getty Images
Daisy Ridley, who plays Rey in the Star Wars movies, has said that her character's parents could be revealed in the next film, Star Wars: Episode VIII.
Viewers were left wondering who Rey's parents were at the end of the last movie.
Daisy Ridley was reportedly asked about the possibility of Han Solo being Rey's father, to which she replied: "We will see in a year. Just sit tight on that question."
Star Wars: Episode VIII is expected to be released in 2017.
A Star Wars spin-off, Rogue One, is out in December, which won't feature Rey.