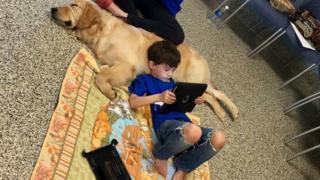 4 paws for ability
A young boy who can't be touched or hugged by anyone has connected for the first time - with his new doggie pal.
Kainoa has autism, a condition where people see, hear and feel the world differently and can sometimes find it difficult to communicate and form relationships with other people. In Kainoa case he finds being touched uncomfortable and even painful.
His mum brought him to a 4 Paws For Ability centre in Ohio, an organisation who provide service dogs to disabled children and veterans.
Animals are sometimes used by doctors - including here in the UK - to help people come to terms with physical problems and to help them talk about their feelings.
After struggling for years to form any sort of connection with anyone outside of his family, his mum says he's finally managed to find a new friend.