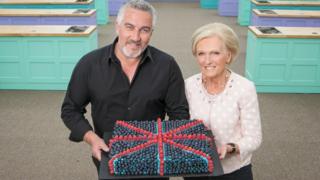 BBC/Love Productions/Mark Bourdillon
So we now know the three finalists for the Great British Bake Off 2016.
Candice, Andrew and Jane are the bakers left standing in the white tent.
They have three bakes left to "prove" themselves to Mary and Paul - the signature, the technical and the showstopper.
Who do you think deserves to take home the GBBO 2016 title?

I think Andrew should win because he is very calm under pressure and always presents his bakes well. He is also great at his ways to present his bakes eg. His choir this week
Rachel, 11, County Armagh
I think that Candice should win personally, her bakes have been better than the others.
Thomas, 11, Aldershot
I think Candice should win by the way I love you CBBC!
Nafeesa, 11, Preston
I think Candice deserves to go to the finals as she has been star baker three times! Well done! By the way - loving the lipstick!
Sameeha, 12, London
I think that Andrew should win as not many men win the Bake Off.
Ren
I think Candice should win.
Chloe, 10, East Harling
This chat page is now closed, thank you for your comments.
You must ask your parent, teacher or guardian for permission before you send us a comment.
We may show your comment on our website or in our TV bulletins. We'll show your first name and where you're from - but we won't use your details for anything else.