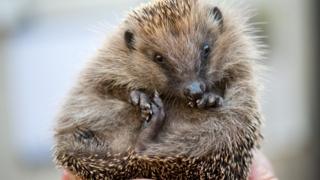 Getty Images
Hedgehogs are a well-loved and easily recognised part of wildlife in the UK.
But there's been a fall in hedgehog numbers, according to research by the Suffolk Wildlife Trust.
It's feared up to a third of the population has been lost in the past 10 years.
Newsround's Martin meets three people who are helping to protect Britain's hedgehogs.
The hedgehog sanctuary
Anne is a volunteer at a sanctuary, which provides care for sick and injured hedgehogs before releasing them back into the wild.
The sanctuary has over 80 hedgehogs in it.
The hedgehog officer
Ali has a job that many of us wouldn't mind doing - she's a hedgehog officer!
She's based in Suffolk and does all sorts to try and make places more suited for hedgehogs to live there. One plan is to build hedgehog friendly networks.
People like you - Daisy
Meet 10-year-old Daisy, who is one of the many people across the UK doing their little bit in their own gardens for hedgehogs.
She shows us what she's doing and why it's important.