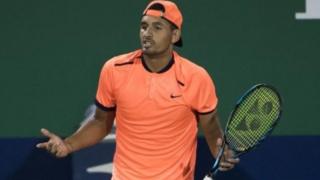 Rex Features
Australian tennis player Nick Kyrgios has been banned for eight weeks and fined over £20,000 for his behaviour on court
The ATP, who run men's tennis, said Kryrgios argued with a fan, swore and didn't try hard enough during in his 6-3, 6-1 defeat by Mischa Zverev.
The 21-year-old patted the ball over the net several times when serving and he also began walking back to his chair before a Zverev serve had even landed.
World number 14 Kyrgios said he was "truly sorry" and would "use this time off to improve on and off the court".
He added: "I regret that my year is ending this way. "
"The season has been a long one as I battled several injuries and other challenges towards the end of the summer."
"This is no excuse, and I know very well that I need to apologise to the fans."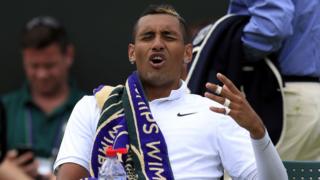 PA
It's not the first time Kyrgios has been in trouble with the tennis authorities:
He withdrew from Rio 2016 following a row with the Australian Olympic Committee.

At Wimbledon 2015 he was fined after he kept missing or hitting the ball into the net and arguing with the umpire over taking too long to change his socks.

Kyrgios also hugged a ball boy and threw his racquet into the crowd during the third set.
In 2015 he was banned for 28 days and fined $25,000 for things he said during a Rogers Cup match about female tennis player.