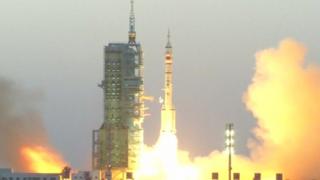 China launches astronauts on science mission
China have launched two astronauts into orbit for the country's longest ever space mission.
They will dock with China's science laboratory that was launched into space in September and they will be there for 30 days.
The Shenzhou-11 spacecraft blasted off from the the Gobi desert in East Asia.
Astronauts Jing Haipeng and Chen Dong will take two days to reach the Tiangong-2 space lab.
They will do experiments to test how well their bodies react to zero gravity and even grow rice samples.
The country is working towards setting up its own space station.