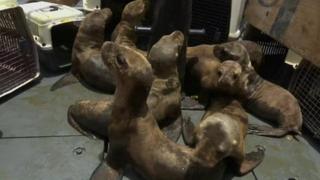 Nine sea lion pups return to the wild
It's a beautiful moment. Especially for these nine sea lion pups.
Orphaned at a young age, they've been through months of preparation to reach this moment - a long awaited return to the wild.
The five females and four males lost their Mums after they were killed off the coast of Lima, Peru in South America.
Fortunately these guys have been given a second chance, and by the looks of things, they just can't wait to get back in the water!