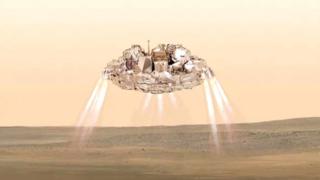 Esa
This weekend the Schiaparelli lander will begin its descent to the surface of Mars.
It's travelled more than a billion kilometres to get there.
It's hoped the joint project between the European Space Agency (ESA) and Russia could be the first from Europe to make it safely to the red planet.
The aim of the unmanned mission is to try to find out if life exists, or has ever existed, on Mars.
On Sunday, the Schiaparelli lander will separate from the main ship, the ExoMars Trace Gas Orbiter (TGO).
The pair will travel separately and reach their destination on Wednesday, when the TGO will go into orbit around the planet, and the lander heads for the surface at 21,000 km an hour.
The Schiaparelli will have to travel through temperatures of 1500C.
A parachute and reverse thrusters will help to slow its descent, until it reaches the surface.
"It is very important that it goes right. It will be the first successful Mars landing for Europe. We have to keep a cool head." said Michel Denis from the ESA.
One of the jobs of the Trace Gas Orbiter will be to check the atmosphere for methane. A gas that could point to life on the planet.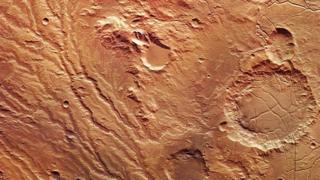 Esa
Meanwhile, the Schiaparelli lander will look at conditions on the ground.
If the mission is successful it will mean plenty more exploratory visits to Mars from Earth.
But the first challenge will be the tricky job of landing safely on Mars.