They've spent much of their life performing in circuses, but now Asian elephants 'Maia' and 'Guida' have finally been set free.
Released into their new 2,800 acre-home in the western Brazilian state of Mato Grosso, these two will get all the care they need to live the rest of their lives amongst forest and countryside, with large boulders, streams and springs.
"It is about giving elephants a new life," said Scott Blais, co-founder of the sanctuary.
"It's about giving them their space. A space to recover, a space to thrive...building a future that becomes their own."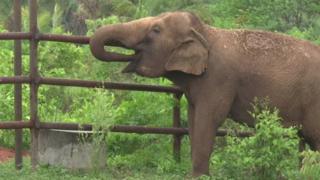 Reuters
Sanctuary officials estimate there are more than 50 elephants in South America that are similar to Maia and Guida, both aged over 40, in need of a home.
Figuring out what to do with older elephants has become increasingly difficult as their natural habitats come under attack from deforestation and there is not enough space in zoos to accept them.
Junia Machado, President of the Brazil Elephant Sanctuary says the area they have set aside was once a cattle farm 100 years ago, and has everything these elephants need.
"It has uphill, downhill terrain for them to exercise and cure the years and effects of captivity... and the vegetation is varied. There is native and planted vegetation, which they love to graze on."
What more could an elephant dream of!