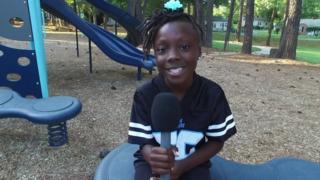 Zianna Oliphant: 'Speak from your heart'
A nine-year-old American girl has been praised for her passion and bravery after she spoke up about the treatment of black people in her community.
Zianna Oliphant caught the world's attention after her passionate speech at a community meeting in Charlotte, North Carolina.
Tensions having been running high recently across some parts of America. People are angry about the the treatment of black people by the police . Over the last year there have been a number of shootings in America involving black people and police officers.
Click on the video to see Zianna's message to other kids.
For more on what it's like to grow up black in America, watch our Newsround special.