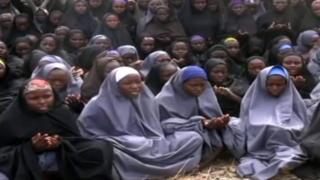 Getty AFP
Twenty-one of the schoolgirls kidnapped by Boko Haram in Nigeria, Africa have been freed, according to the country's President.
The Nigerian government say the release comes after negotiations with the extremist group.
276 schoolgirls aged 16-18 were taken from a school in Chibok in Nigeria in April 2014. Some managed to escape but 219 were still missing.
Boko Haram took the girls because they are against children - especially girls - getting an education, like they do in the UK.
At the time they were taken people all over the world who were shocked by the story and they started a campaign called "bring back our girls".
Up until now, only one girl had been found: 19-year-old Amina Ali Nkeki was rescued in May.
The 21 schoolgirls have been taken to an army base by the International Committee of the Red Cross.