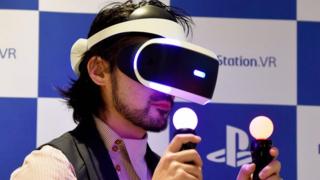 Sony releases latest virtual reality headset
Sony is the latest company to release a virtual reality headset which will go on sale in Japan and North America on Thursday.
The headset can plug into existing PS4 consoles and Sony are hoping fans will splash out hundreds of pounds for the gadget.
Lots of games are currently being designed for the device which will allow players to fly like an eagle, drive sports cars in high-speed races, and explore castles.
Currently it's normal for games to last just a few minutes but developers are trying to see how far they can extend play without players feeling tired or sick.
It goes into competition with other VR headsets like Facebook's Oculus Rift and the HTC Vive - which are currently even more expensive.
Sony hopes the headset will be used not just for gaming but also for other things like watching films.