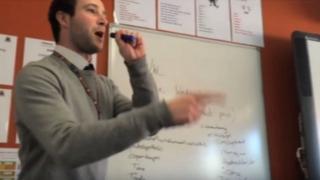 Does your teacher have skills like this guy?
Meet Christian Foley, he might seem like an ordinary teacher, but his maths lessons are anything but normal!
He has been creating some pretty epic raps to help his students at Cardinal Pole School in Hackney to enjoy maths a bit more.
In one of his raps, he rhymes about angles, ratio and Pythagoras.
His raps have proved to be pretty popular online, as well as in his classroom, with one of them racking up more than 37.9 million views online.