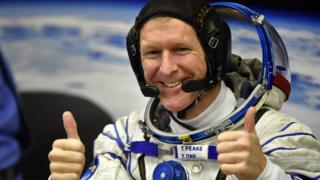 Getty Images
It's four months since British astronaut Tim Peake landed back on Earth from his mission on board the International Space Station.
Tim crammed in a lot during his six months up there.
His main job was conducting science experiments, but he still found time to do a spacewalk, run a marathon and give out a Brit Award!
This weekend he's coming into Newsround HQ to tell us about his time in space - and we want to know what you'd ask him!
Send us any questions you have about being an astronaut and we'll do our best to ask them to Tim.

This comments page is now closed. Thanks to everyone who's got in touch.
You must ask your parent, teacher or guardian for permission before you send us a comment.
We may show your comment on our website or in our TV bulletins. We'll show your first name and the area you're from - but we won't use your details for anything else.