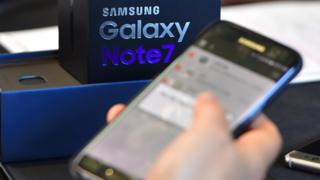 Getty Images
Samsung says it's no longer making the new Galaxy Note7 smartphone - and told customers who have one to turn it off and stop using it.
It's after reports of some of the phones catching fire.
This is a huge decision for the South Korean tech giant. So what's up?
On Tuesday, Samsung told Galaxy Note7 owners to turn off their phones immediately and stop using them.
This came after reports of the phones, in particular the batteries, catching fire.
Shops were told to stop selling them while they investigate the issue.
This is not the first time Samsung have had problems with the Note7.
In September, the company recalled and replaced 2.5 million of them after receiving complaints that the batteries were exploding.
It would now appear that the replacement phones may also be faulty, with customers being advised to switch them off.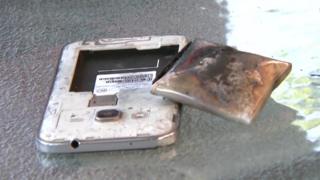 EVN
Samsung is investigating, but it's likely the problem is to do with batteries.
Many smartphones are powered by lithium-ion batteries, which are a special type of rechargeable battery.
Companies use them because they allow them to make the phones smaller, more efficient and charge faster.
However, this type of battery has been known to be quite unstable and can burst into flames or even explode.
But it's important to remember that companies do loads of tests on their tech to check they're safe for people to use.
It's expected that people who have a Galaxy Note7 will be able to return the phones for a refund or swap it for a different Samsung phone.