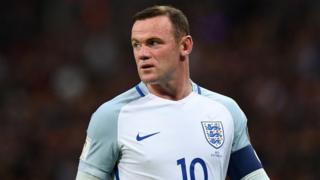 Getty Images
England manager Gareth Southgate has confirmed that Wayne Rooney is to be dropped to the bench for their World Cup qualifier against Slovenia on Tuesday night.
It comes after some of the Wembley crowd booed him during England's 2-0 win over Malta on Saturday - something that's shocked other England players.
It's true the England captain has been short of form this season, only scoring once in 12 games for club and country, and has been a substitute in the past three games for Manchester United.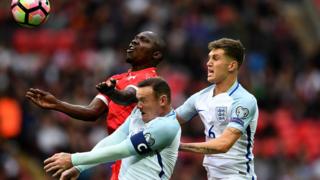 Getty Images
However, despite being deployed in a deeper role on Saturday, he had five shots on goal, the joint-highest amount in the team alongside Daniel Sturridge, who scored the opening goal.
So should Rooney be put on the bench for England's game? Is it right for him to be booed by his own fans?

Thanks for your comments. This chat page is now closed.
No because he's my best player for England.
Quinn, 7, North Yorkshire
I think Wayne Rooney should be taken off the team because he rarely does anything good for the team. It's mainly the other players who score the goals and make good passes.
Catrin, 10, Oxford
I think it is not right because sometimes footballers could get scared and lose their confidence.
Jasmine, 8
I don't think Wayne Rooney should go because he never stops moving and is always setting up goals.
Matthew, 9, Leaminton Spa
I think he should get another chance because he is a great footballer and midfielder/defender.
Joseph, 13, Northamptonshire