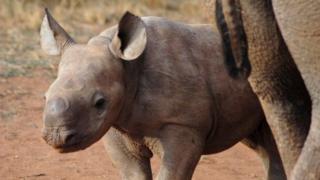 Two black rhino babies give species hope
The birth of two black rhino babies in Tanzania, east Africa, is bringing hope for the critically endangered species.
The calves have come from two female black rhinos that were bred and brought up at a British wildlife park, Port Lympne in Kent.
Four years ago, they were moved from the UK to Tanzania.
They even got a royal send-off from the Duke of Cambridge, who is a passionate campaigner for animal rights.
Conservationists hoped that the two rhinos would settle into the wild and have babies... and now they both have!
The two new calves bring the total number of wild Eastern black rhinos to 702, as Ayshah's been finding out.