Hurricane Matthew has left thousands of people living in Haiti without homes, food and clean water.
The storm hit the Caribbean country this week with winds of up to 145mph destroying many people's homes.
Officials say that hundreds of people have now died as a result of Hurricane Matthew in Haiti.
Charities and aid agencies are currently trying to help people in Haiti, but what do they need now?
Shelter
One of the main problems now facing many Haitian people is that they have nowhere to live.
Hurricane Matthew completely flattened around 80% of the buildings in one city, Jeremie, and caused severe flooding across parts of the country.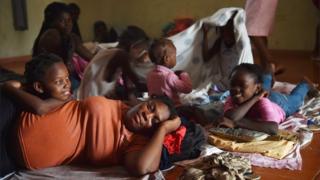 AFP/Getty
The charity Save the Children says 1,300 temporary shelters have been set up across Haiti for people whose homes have been destroyed.
The problem's made worse because thousands of people were still living in tents and poorly built houses following a huge earthquake in 2010.
Haiti is one of the world's poorest countries and many people can't afford to repair their homes.
Food and clean water
Hurricane Matthew has caused huge damage to farms in Haiti, with fields of crops and animals being wiped out by severe flooding.
This means that many people have very limited, or no access to food.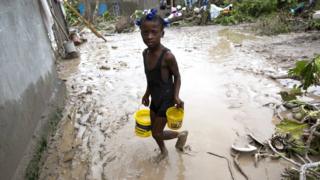 AP
Each year before hurricane season starts, the United Nations World Food Programme prepares enough emergency food supplies to feed 300,000 people in Haiti.
These include things like high energy biscuits, rice, beans and oil. More food is on standby.
The flooding has also affected people's access to clean drinking water.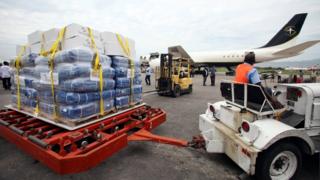 Reuters
Officials and the military are working together to try and get emergency food and water to people in the worst affected areas.
However, the flooding and fallen trees are making it very difficult for the aid workers to get access to people in need.
So some aid agencies are using helicopters to try to drop in supplies.
Hygiene and sanitation
Around 50-60 centimetres of rain has fallen in some areas of Haiti, causing toilets to overflow and make the floodwater dirty.
Health officials are worried that this dirty water might cause huge problems for the people living in Haiti.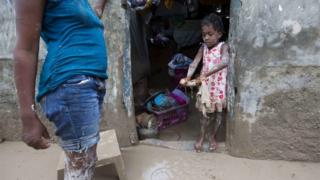 AP
They think that diseases like cholera, which is found in dirty water, might spread more easily, and cause lots of people to become sick.
This would be very bad because aid agencies might not have enough medicine to help people.
One way charities like Oxfam are helping is by giving out hygiene kits, which contain things like soap, cotton wool and a bucket.