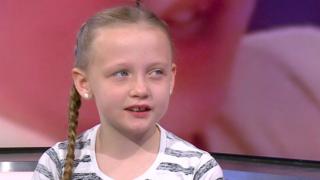 'Why can't clothes be the same?'
Eight-year-old Daisy's video criticising Tesco on its different styles of clothes for girls and boys has had nearly two million views online.
She told Newsround: "Why can't the girls have the same slogan, maybe just in a different colour?"
In her video, Daisy points out the girls' tops say things like "I feel fabulous", while boys' tops have words like "Hero".
Tesco said: "We'd like to thank Daisy for her feedback and we can assure her that new styles will be arriving in stores shortly."
Daisy speaks to Newsround's Ricky about why she's disappointed and annoyed about separate designs based on gender.