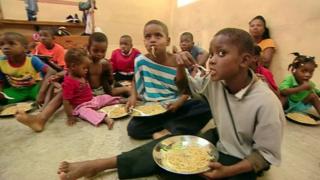 How badly Haiti's been hit by Hurricane Matthew
Thousands of people have lost their homes, and hundreds of people have died in the Caribbean country of Haiti, after Hurricane Matthew swept through.
The powerful storm hit Haiti earlier this week, destroying houses and leaving many people without power and water.
Around 80% of buildings in the city of Jeremie have been completely flattened.
Officials think that more than 300 people have now died as a result of Hurricane Matthew in Haiti.
Charities and aid agencies are trying to help the people in Haiti, by providing shelter, food and clean drinking water.
Julie Lee from children's charity World Vision tells Newsround what's happening in the country.