A video of a girl criticising the children's clothes in Tesco has become an online hit, with almost two million views.
Eight-year-old Daisy was in the supermarket with her mum, when she became angry at the differences between some of the clothes on sale for girls and those for boys.
Her mum filmed a video of her - you can watch part of it below.
But what was she angry about and why?
'We're just as good as each other'
Daisy was angry with the clothes for boys and girls for two reasons.
Firstly, she wasn't happy with the idea of boys and girls being told they had to buy different clothes to each other.
"I think it's wrong, because why should boys' and girls' clothes even be separated? Because we're just as good as each other," she said.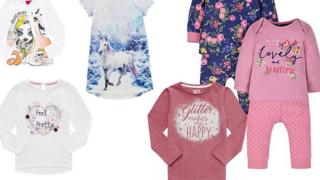 Tesco.com
Secondly, some of the clothes for girls had messages on about being "pretty" and "beautiful", while some of the boys' clothes were more about "adventure" and "exploring".
Daisy didn't like the suggestion that girls just like to be pretty and look beautiful, whilst things like exploring, space and adventure were boys only interests.
"It's unfair, because everyone thinks that girls should just be pretty and boys should just be adventurous," she says.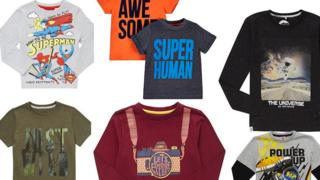 Tesco.com
What Tesco says
Newsround asked Tesco what it thought about Daisy's comments and the company told us: "We stock a wide variety of clothes suitable for girls and boys and listen to the views of our customers when reviewing our range.
"We'd like to thank Daisy for her feedback and we can assure her that new styles will be arriving in stores shortly."