Hurricane Matthew is continuing to sweep north through the Caribbean leaving devastation as it goes.
Parts of southern Haiti have been badly hit while Cuba has narrowly avoided the worst of it.
US President Barack Obama has warned those living in the path of Matthew that it "is a serious storm" and people should prepare to evacuate.
Weather forecasters say it will move across the Bahamas and reach the US east coast late on Thursday.
In the Bahamas, Prime Minister Perry Christie told residents in coastal regions to move to high ground, according to local news reports.
"If you live on the southern coast of any islands, you will be exposed to risk."
The storm was downgraded from a Category 4 to a Category 3 yesterday, while still packing winds of over 115 mph with serious impacts expected to be felt when it hit the coast of Florida.
The storm pounded parts of the Bahamas and has gathered pace again, leading to it being upgraded to a Category 4 storm once again on its approach to Florida.
Authorities there are urging residents to get out of the way of it while there is still time as fears grow this could be highly destructive.
"We will likely start to see impacts on Florida within the next 24 hours and through the weekend", said Governor of Florida Rick Scott.
"Everyone in our state must prepare now for a direct hit... If Matthew directly impacts Florida, the destruction could be catastrophic and you need to be prepared."
Residents and business owners have been preparing the last few days to protect their property, boarding up homes and glass windows.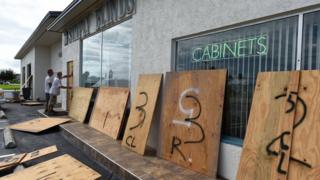 RHONA WISE
Schools in the area, and up along the Atlantic coast of South Carolina, the state north of Florida, have already closed, with some motorway lanes all open to northbound traffic so more people can escape the area.
US President Barack Obama said: "If there is an evacuation order in your community, you need to take it seriously."
Local state authorities have gone further and simply said not to wait for an order, and have urged people to get out while they can.