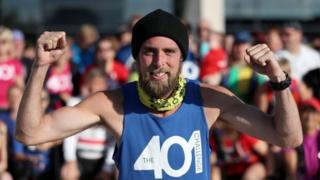 The man who ran 401 marathons in 401 days
A runner has completed an epic charity challenge by running 401 marathons in 401 days.
Ben Smith started his marathon challenge on 1 September 2015.
However, after running 284 marathons in 284 days, he suffered from an injury, which meant he had to stop for a few days to recover.
Now, Ben has completed his final marathon in Bristol with around 350 joining him on his final run.