A runner has completed an epic charity challenge by running 401 marathons in 401 days.
Ben Smith started his marathon challenge on 1 September 2015.
However, after running 284 marathons in 284 days, he suffered an injury, which meant he had to stop for a few days to recover.
Now, Ben has completed his final marathon in Bristol with around 350 people joining him on his final run.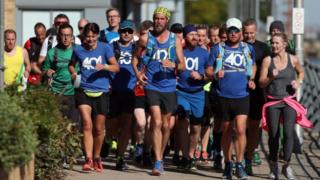 PA
Ben was badly bullied at school when he was younger, and is running the marathons to help raise awareness.
He said: "I'm doing this to raise £250,000 for two anti-bullying charities, I was bullied for eight years of my life at school - it affected my confidence and self-esteem" he said.
As well as running marathons he has visited more than 100 schools all over the country to give anti-bullying talks.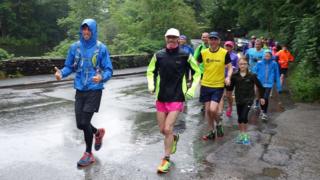 PA
A marathon is around 26 miles long, and each one takes around 7 hours to complete.
After his final marathon, the people helping out Ben have put together a special "cool down" for him.
This means he will carry on running for the next three months, but that the runs will get shorter and shorter each time, to let his body get used to not using as much energy.