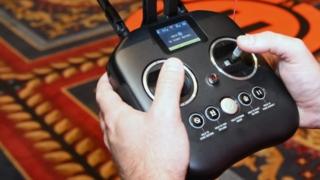 Drone racing: How it works
Drone racing is super-fast, super-competitive and requires racers to steer high-tech flying machines around complex obstacle courses.
Known as FPV racing - or first person view - drone pilots use headsets to give them a drone's-eye view as they use a controller to fly around the course.
All the pilots competing in this competition will fly the same type of drone, meaning when they win, it's down to their piloting skill and not the technology.
The winner of these competitions often takes home a big money prize, and earns the chance to compete in the World Championships, to claim the title of being the best drone-racing pilot in the world.