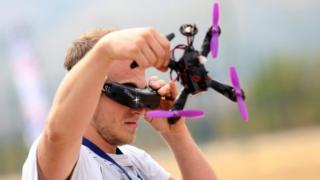 Drone racing: How it works
The world of competitive drone racing will be whizzing its way onto our TV screens for the first time.
Sky Sports have signed a deal with the Drone Racing League, who run some of the big competitive drone racing events around the world.
The founder of the Drone Racing League said: "It's going to be the first chance for an audience around the world to actually see competitive drone racing on TV,"
Sky will show 10 one-hour-long episodes of some of the the world's top drone racers battling it out, ending with the World Championships final.