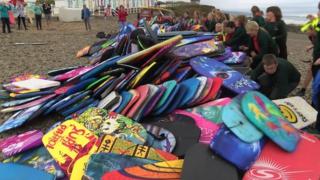 Discarded body boards a blight on Britain's beaches
The beach is a great place to spend some time on holiday, and lots of us love to get out on the waves with a body board or a surf board.
But when the holidays are over and the holiday makers have left, many body boards are left behind on Britain's beaches.
The problem is not a small one either, in Cornwall over 600 boards were recovered from 3 beaches in 1 month!
Ricky has been finding out a little bit more, check out the video.