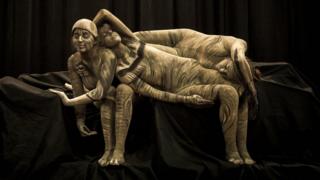 Elephant made from painted on people
If you squint or look from far away it looks like a painting of an elephant - but it is actually made from of three people.
Artist Johannes Stoetter has revealed his latest work in Johannesburg, South Africa at a meeting called Cites, where representatives from all over the world come together to talk about protecting the world's plants and wildlife.
One of the key issues being explored at this meeting is the world's declining elephant population.
A recent survey found that tens of thousands of African elephants are being killed every year by poachers who want to take their ivory tusks.
Johannes said he makes art like this to get people to see the animals in his work as human beings, in the hope this will change some people's minds about what they think of elephants.