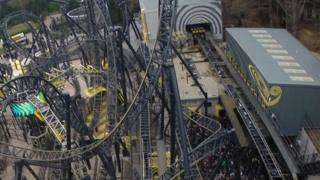 PA
Merlin, who run Alton Towers, has been fined a record £5 million for a crash that injured sixteen people, five seriously, on the Smiler ride last summer.
The theme park originally said the accident was caused by "human error" - that it happened because a staff member had made a mistake.
But the judge who gave the £5m fine said the crash happened because of mistakes made by the people in charge, not individual staff.
Judge Michael Chambers QC described the crash as a "catastrophic failure" and a "needless and avoidable accident."
He said there were problems with the design of the ride, how it was run and that it also took too long for emergency services to be called.
The Health and Safety Executive, who make sure companies follow health and safety procedures, said:
"Merlin failed to protect their customers. They let them badly down."
After the verdict, victims said that they were "shocked and disappointed" by the number of mistakes Merlin made.
Accidents on rollercoasters are very rare because there are lots of safety checks and rules that the people who run them should follow.
But when accidents do happen it is very serious and that is why Merlin were investigated and given such a severe punishment.
The £5m fine is the highest given to a theme park or fairground.