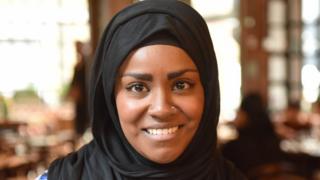 Nadiya Hussain wowed the judges and public in last year's Bake Off with her combination of top baking skills and winning personality.
Since then, she has gone on to do lots of different things like writing a book and even starring in her own TV show.
That's not to mention being a judge on the new series of Junior Bake Off.
We will be welcoming her onto the Newsround sofa this week and we want your questions!
We're also keen to see your beautiful baked creations, which we will hopefully show to Nadiya.
So why not send us a picture of something you've baked, or your questions for the Bake Off star, or both?!

This chat is now closed, thank you for your comments.
Would you consider presenting Bake Off on Channel 4?
Tyler, Bedford
Did you think you would win from the start?
Arshiya, UK
What was the first thing you baked?
Ellie, London
What is your favourite thing to bake?
Akshita, UK
What was the best thing about GBBO 2015?
Jessica, London
How many times a week do you bake something?
Zahra, London
What do you want to do next?
Becca, Doncaster
What do you think will it be like without Mel, Sue and Mary?
Leo, Belfast, Northern Ireland
What inspired you to start baking?
Bella, London
You must ask your parent, teacher or guardian for permission before you send us a comment and a photo.
We may show your comment on our website or in our TV bulletins. We'll show your first name and which town you're from - but we won't use your details for anything else.