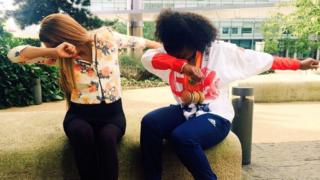 How to do the Dab with Kadeena Cox
Kadeena Cox is no stranger to celebrating on the podium, the 25-year-old from Leeds has enjoyed a lot of success in her career.
She's come back from the Paralympics in Rio with four medals, including gold in the 400m, a silver in the 4x100m relay - and not to mention her gold medal and new world record in the 500m cycling time trial!
Winning a gold medal in the sprinting and again in the cycling, Kadeena is the first British Paralympian to top the podium in two different sports since 1984.
So plenty of reasons for her to be pleased and what better way to celebrate winning gold than with a little bit of a dance?
Kadeena shows Newsround's Naz how to celebrate like a pro.