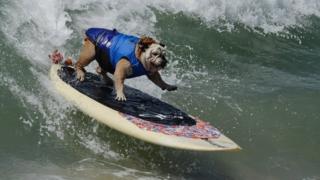 Surf's pup! Dogs in US surfing contest
Dogs of all shapes and sizes have been taking part in the annual "Surf City Surf Dog" competition in California.
Crowds watched the pooches compete in four weight divisions and the difficult "shredder" category.
They were judged on a variety of skills, including the length of time they spent on the board and their confidence while surfing the waves.
The competition took place at Huntington Dog Beach, near Los Angeles.
Have a watch to see some of them in action.