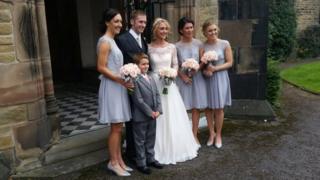 DaSistasDad/Twitter
Cycling's golden couple Laura Trott and Jason Kenny have got married.
The Team GB pair, who have won 10 Olympic gold medals between them, had their wedding ceremony on Saturday.
The pair, who live in a cottage just outside Knutsford, Cheshire, turned down an offer to have the wedding featured in a magazine and managed to keep the details a secret from the press until it had happened.
Their relationship began in the build-up to the London 2012 Olympic Games.
Laura told Newsround, in August 2016, that "it wasn't love at first sight" when she first met Kenny who she said never spoke to her in training.
Jason said in response, he "never said hello to anyone" and he could not "help being grumpy".