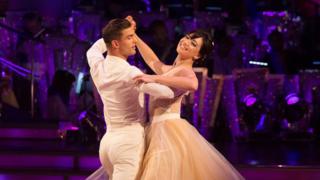 PA
Strictly Come Dancing returned with a bang this weekend as a host of celebrities performed their first competitive dances.
Fashion model Daisy Lowe flew straight to the top of the leaderboard with a near-flawless waltz scoring 32 points.
However former Labour politician Ed Balls failed to keep up with the high scorers, sinking to bottom of the leaderboard with 21.
The 15 contestants are competing to win the BBC show's glitterball trophy.
Now, we want to know who your favourite dancer is so far after the first weekend of dancing.

Who is your favourite Strictly Come Dancing celebrity so far?
Which dancer impressed you after their first dance?

What did you like about them?

Which celebrity was the most entertaining dancer?
This chat is now closed, thank you for your comments.
Daisy Lowe as she is so elegant when she dances.
Isobel, Manchester, England
I love Greg Rutherford because he is cool when he is dancing and I know he will win. Go Greg!
Ilyas, High Wycombe, England
I like Anton Du Beke because I think he's funny and a good dancer.
Bobby, Teeside, England
My favourite dancing couple is AJ and Claudia because they are always energetic and fun to watch. High hopes for them to win!
Lydia, Wiltshire, England