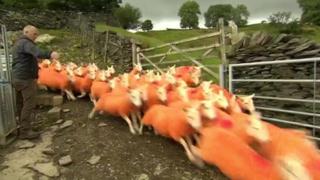 Flock of orange sheep seen in Cumbria
A farmer in Cumbria has gone to extreme lengths to make sure his sheep will stand out from the crowd, by turning his entire flock orange.
Pip's farm has 800 sheep in total, and they've been turning heads already, with tourists even coming specially to get a look at the unusual flock.
But there's a serious reason behind their new look.
Farmer Pip says that there's a big problem with sheep getting stolen in the area.
He says more than 300 have been stolen in the last few years, but he's hoping that thieves will think twice now that his sheep are so easy to spot.
The spray paint lasts about 12 months, and doesn't hurt the sheep at all.
Luckily they don't seem to mind their barrr-illiant new look!