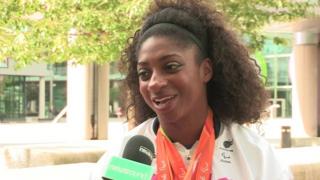 The athlete who inspires Kadeena Cox
Double Paralympic gold medallist Kadeena Cox is back from Rio with a whole bunch of new medals around her neck!
Kadeena competed in both cycling and athletics at the 2016 Paralympic Games.
As well as winning two golds, she claimed a silver in the women's T35-38 4 x 100m relay race and a bronze in the T38 100m sprint.
Now she's back on UK soil, Kadeena stopped by Newsround to answer your questions.
She tells us about the Paralympian who inspires her and what she eats to keep herself in tip top condition for competitions.