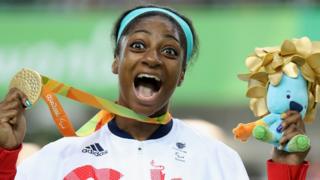 Getty Images
Double Paralympic gold medallist Kadeena Cox is back from Rio and will be chatting to Newsround about her epic summer of sport.
At the Paralympics she competed in cycling AND sprinting, winning gold medals in both!
She also won silver in the women's T35-38 4 x 100m relay race and bronze in the T38 100m sprint.
And to top it all off, Kadeena was chosen as Para GB's flag bearer for the closing ceremony of the Games.
This chat is now closed thanks for your questions.